Madden Library partners with StoryCorps to record stories of area Latino families
As part of Fresno State's celebration of Cesar Chavez Day, the University's Henry Madden Library is partnering with national oral history organization StoryCorps to record and preserve the stories of Latino families who have agricultural roots in the San Joaquin Valley.
Twelve pairs of participants will be chosen to share their memories with StoryCorps during Vintage Days, April 16 and 17, at Fresno State. Six pairs of Fresno State Latino faculty, staff and student participants will be chosen to share their memories with StoryCorps on April 15 at Fresno State.
These 40-minute interviews are conversations between two people who know each other well. A trained StoryCorps facilitator will guide each pair through the recording process, but the participants will be talking directly together, asking questions and sharing memories of the experiences and people meaningful to them.
Each pair can structure their session with one participant interviewing the other, or it can be a casual conversation where they ask each other questions back and forth. Participants will receive a copy of the recording and can archive it at the American Folklife Center at the Library of Congress and The Nettie Lee Benson Latin American Collection at the University of Texas at Austin.
The Madden Library invites the campus and community to nominate interview candidates through March 6 via Twitter (@MaddenLibrary #MaddenStoryCorps) or email at specialc@listserv.csufresno.edu. A selection committee will pre-select the pairs in March based on the nominations received. Self-nominations and Spanish-language interviews are welcome.
These stories will contribute to the Madden Library's growing collection of oral histories documenting the cultural and ethnic diversity of the San Joaquin Valley. This collection is an effort to preserve the Valley's history through its people and their stories of migration, settlement, struggle and triumph over the generations.
"This is the kind of event that brings people together and ensures that our precious family stories are not lost," said Tammy Lau, head of the Madden Library Special Collections Research Center. "We hope that people come out to enjoy Vintage Days and, at the same time, learn more about StoryCorps and become engaged as a community in our shared history within the Central Valley."
StoryCorps is an independent, nonprofit organization dedicated to recording, preserving and sharing the stories of people from all backgrounds and beliefs. Founded in 2003 by award-winning documentary producer and MacArthur "Genius" Grant recipient Dave Isay, StoryCorps aims to create a growing portrait of who we are as Americans. By traveling to every corner of the country, StoryCorps has one of the largest collections of American voices ever gathered, with interviews collected from more than 100,000 Americans in all 50 states. To ensure the diversity of participants, StoryCorps has launched several major initiatives. Among these initiatives, Historias collects the stories of Latinos throughout the United States.
"StoryCorps tells the true American story — that we are a people defined by small acts of courage, kindness and heroism," Isay said. "Each interview reminds people that their lives matter and will not be forgotten. By strengthening connections between people and building an archive that reflects the rich diversity of American voices, we hope to build StoryCorps into an enduring institution that will touch the lives of every American family."
A small percentage of all StoryCorps interviews are produced for national broadcast on NPR's "Morning Edition." However, all of the interviews recorded at the Madden Library will be archived in its Special Collections Research Center, where they will available for research to the public. Individuals not selected as interviewees during this event will be encouraged to download the new, free StoryCorps app that allows anyone to record their stories and upload them to www.storycorps.me.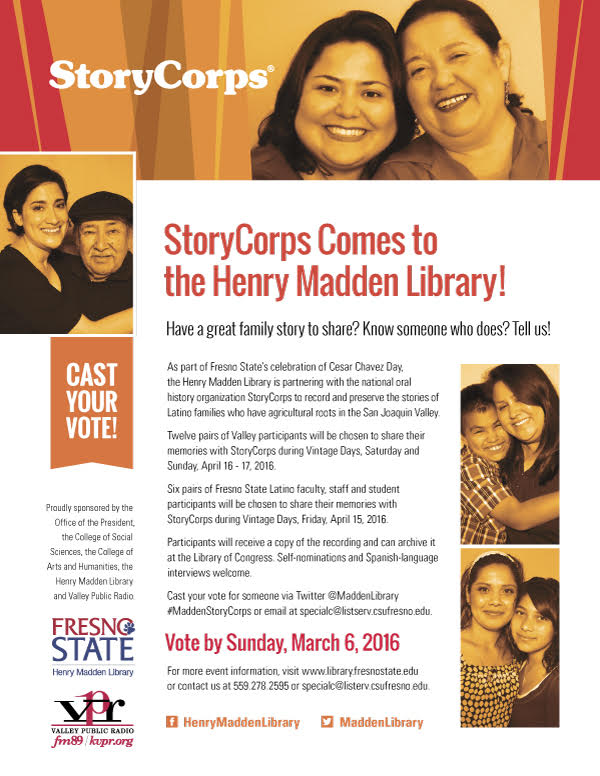 This event is proudly sponsored by the Office of the President, the College of Social Sciences, the College of Arts and Humanities, the Henry Madden Library and Valley Public Radio.
For more event information, visit www.library.fresnostate.edu or contact Cindy Wathen at559.278.1680 (office), 559.593.3604 (cell) or ciwathen@csufresno.edu.
For more information about disability accommodations or physical access, call 559.278.5792 in advance of your visit.
Related Links: