CSUN's Oviatt Library Honors Author with Inaugural Nonfiction Award
(NORTHRIDGE, Calif., February 24, 2016) – The Delmar T. Oviatt Library at California State University, Northridge (CSUN), has selected author and long-time Valley marketing and public relations executive Martin M. Cooper to receive the first San Fernando Valley Award for Nonfiction. "The award was conceived by the Oviatt's Friends of the Library to recognize important contributions to nonfiction writing about the San Fernando Valley, and to promote research and writing related to the region," says Oviatt Library Dean Mark Stover. "Historical research and retrospective journalism are the keys to unlocking the mysteries of the past. With his book, Read All About it! The San Fernando Valley: 1946-1970, Martin Cooper has created a marvelous work that will bring back memories for some of us and open up new vistas for others."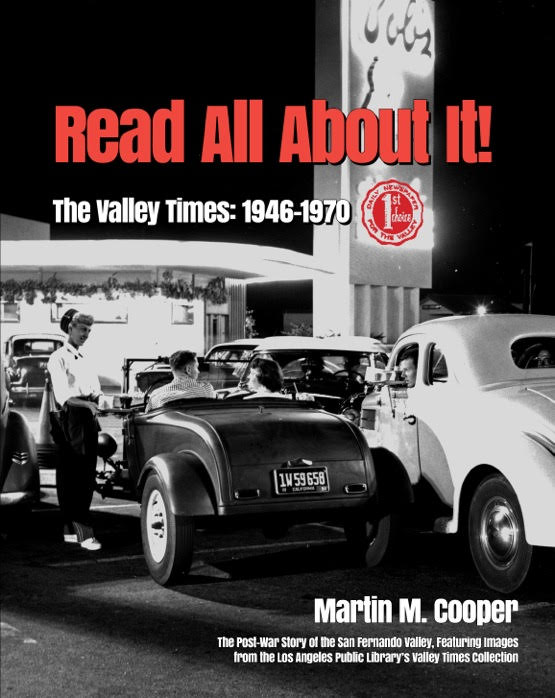 Cooper's book spans an eventful 25 years, from the postwar migration to the Valley to the cusp of the Brady Bunch era. When asked about his inspiration, Cooper says, "Read All About It! was originally conceived as an adjunct to the Los Angeles Public Library's desire to raise funds to catalog and digitize its collection of 70,000 photographs from the now-defunct Valley Times newspaper." The Los Angeles Public Library benefits from sales of the book, and, as Chairman of the Boys & Girls Club of the West Valley, Cooper donates all of his proceeds from the book's sale to that valley-based, nonprofit organization.
In addition to Read All About It!, Cooper has four additional books and more than 100 magazine articles, newspaper columns, and essays to his credit. Cooper is active in community and civic affairs; he is the 2014 Fernando Honoree, bestowed for a lifetime of volunteerism and philanthropy; and he teaches marketing, strategic planning and public relations at UCLA Extension where he was named UCLA Extension's Instructor of the Year in 2011.
"The San Fernando Valley, with a population of almost 2 million people, has a colorful history and a bright future. It has played an important role in the evolution of the city of Los Angeles and the surrounding region for many years," says Stover. "Growth in the population, in industry, and in the arts and culture make the Valley a rich source of material for non-fiction literature. There are no other awards for books written specifically about the San Fernando Valley, so it makes perfect sense for the Oviatt Library at California State University, Northridge, the largest university in the region, to honor writers and researchers with this prize."
Cooper will be honored at a reception later in the year. A complete listing of Library events can be found on the Exhibitions and Events page on the Library website, or by calling (818) 677-2638. The Oviatt Library is located at the center of the California State University, Northridge campus at 18111 Nordhoff St. Parking is $6.00 and daily parking permits may be purchased at booths or online at The Permit Store. The Oviatt Library serves as the main research facility in the San Fernando Valley. For more information about the Library or its hours please visit their website or call (818) 677- 2285.
---
Contact: James Lunsford (818) 677-4659 james.lunsford@csun.edu